 AMERICAN WALNUT

Material
Walnut Wood
Engraving
Rootpecker Logo
Inlay/Seams
Green OLIVE ASH

Material
Ash Wood
Engraving
Rootpecker
Inlay/Seams
Yellow FUMED LARCH

Material
Larch Wood
Engraving
Wood You?
Inlay/Seams
Brown-Grey The revolution of wooden headwear
sustainable | handmade | fair natural
made of real wood and cotton sustainable
all material suppliers are certifed lightweight
weights up to 130g - only 30g more than a regular cap flexible
comfortable and adjustable in size due to its flexibility durable
long-lasting due to precise manufacturing award winner

awarded by reddot in 2018 for high quality design handmade
crafted in our own workshop in Germany patented
the innovative technology and design are patented
one new tree for each sold cap
with every cap sold we plan to plant a new tree on mother earth | stay tuned!
2015
It all started with an idea
Wooden accessories started to become trendy. Besides wooden watches, sunglasses and bow ties, the only key piece missing was the wooden baseball cap.
March 2016
First prototypes were produced
With the vision of developing a sustainable product, we focused on using only natural materials. The biggest challenge was shaping a solid material like wood into a three-dimensional, flexible object. December 2016
A long way of improvements
The first prototypes were slightly stiff and heavy. We kept experimenting with different materials and working methods. Finally, we created the first flexible woodencap made of wood, cotton, natural rubber glue and seams made of recycled PET bottles. Finally we got the process patented.
July 2017
Machines and processes were developed
In order to offer the caps to the broad public, we needed to make the manufacturing more efficient. Therefore we developed customized machines to optimize the production process. March 2018
A high quality product is born!
After finalizing the concept of our edition1, the packaging and marketing campaign, our woodencap got awarded with the reddot award 2018 in the category of product design.
April 2018
Rootpecker at Milano Design Week 2018
First exposition of our woodencaps at Milano Design Week in trendy Lambrate District. We received outstanding feedback by the audience!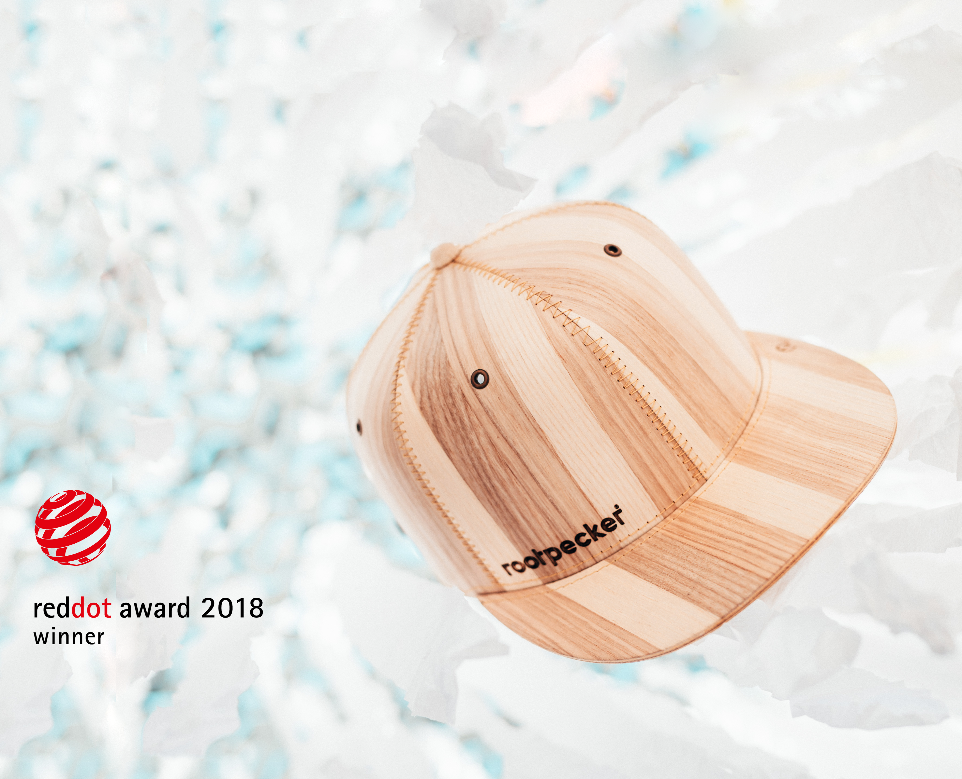 July 2018
Rootpecker received the Red Dot Award
We enjoyed an excellent night at the Red Dot Award Ceremony in Essen and connected with other designers. Sebastian Stümpel
Lead Designer



Becks
Security Manager Philipp Dahlem
Process Designer